Our numbers have fluctuated significantly during the year. From a high of 38 in October to a low of 22 in January. Much of this was forecast as we lost a large number at the top age range and they either transferred to our Explorer Unit or chose to leave the Movement. However, the number of others who left is rather disappointing.
Annual Summer Camp
Our main event this year was our participation at Jurassic International Jamboree 2018 – an international camp near Dorchester in Dorset. There was a varied programme of activities including a visit to Brownsea Island. Unfortunately, our contingent was quite small – it does make one wonder if a full week's camp during the Summer holiday is still worthwhile given the effort and commitment required of our leaders.
Review of other camps
This year's Activity Badge weekend was the Pioneering badge. The weekend ended with each group creating a playground attraction. Our Outdoor Challenge Award camp at Horley, near Banbury, was well supported and successful – thanks to Liam for organising. The programme includes cooking on open-fires, playing wide games and building and sleeping in bivouacs – what's not to like about that!
We attended the 'Strategy' weekend at Cirencester Park. This also was well supported, and we managed to enter 4 teams from our two Troops.
Other activities and Troop nights
We organised several hikes, including day hikes, a night hike, Jamboree on the Trail and the Sarsen Trail. Little did we know that this would be the last one.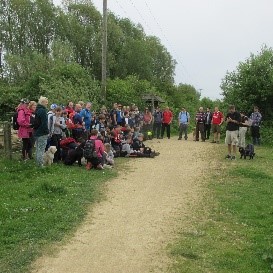 We cooked on wood fires by the canal, as well as cooking pancakes and running a ready, steady, cook evening.
We offered an extensive programme of kayaking sessions at Spinnaker Lake and many Scouts achieved either Stage 2 or Stage 3 of the Paddle sports badge as well as earning lots of 'Time on the Water' credits.
The cycle speedway taster session was also very popular. We also organised some bike rides.
Swindon Ridgeway District and Wiltshire County activities
Once again, we hosted the District Cooking Competition and entered a team. We also entered the District Rifle Shooting competition and finished in second place which allowed us to compete in the County competition where we finished in fifth place.
This years District highlight was the Activity weekend held at Spinnaker Lake in September. Although the weather did not help, those who attended were able to experience a great range of activities including caving, climbing, shooting, archery, rafting and kayaking.
We attended the JOTA/JOTI event at the Wiltshire Scout Centre and decided to make a weekend of it  and did some Geocaching and foraging.
I always think that photographs offer the best evidence of our programme, so here are just a few:
| | | |
| --- | --- | --- |
| Bike ride in flood | Kayaking at Spinnaker Lake | Cooking at Horley |
| Kayaking | Investiture at Spinnaker Lake | Brownsea Island |
| Jurassic Jamboree | Expedition Challenge | Foraging for mushrooms |
and finally….
Congratulations to Christopher who achieved the Chief Scout's Gold Award. As always, I would like to thank our team of dedicated Leaders and other people who help us to provide such a varied programme of activities. In particular, I would like to welcome Simon to our leadership team.